Films of Henry Hathaway: Down to the Sea in Ships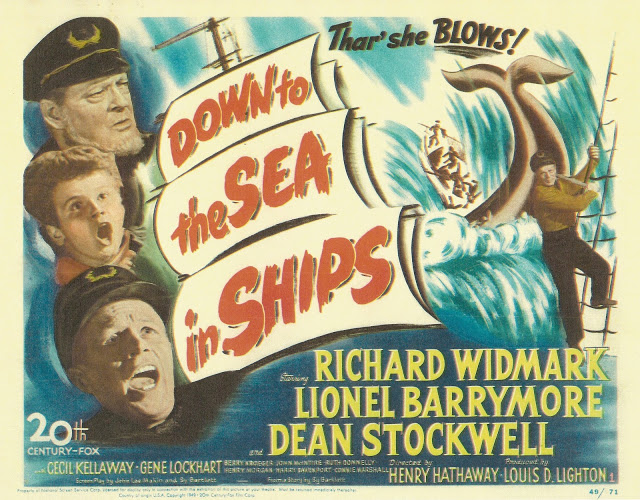 In 1949 Henry Hathaway made one of the best movies of his long career. In it, his three stars, Richard Widmark, Lionel Barrymore and Dean Stockwell (and for that matter, most of the supporting cast) each gave one of his own best performances. Down to the Sea in Ships is in fact one of the finest movies ever to come out of the Hollywood studio system, and almost nobody has ever heard of it.
I know I run the risk of overselling the product here, but I simply don't understand why Down to the Sea in Ships isn't one of the best-loved movies of all time. When the talk turns to the great seafaring stories of the screen — Treasure Island, Mutiny on the Bounty, Captains Courageous, Moby Dick et al. — it's a mystery to me why Down to the Sea in Ships never comes up. If there are such things as flawless movies, and there surely are, Henry Hathaway's Down to the Sea in Ships is one of them.
I say "Henry Hathaway's" to distinguish this picture from the other Down to the Sea in Ships, from 1922. That one made a star out of Clara Bow, and curiously enough, it's available on home video — no doubt because it's in the public domain, while Hathaway's picture is still under copyright and quarantined in the 20th Century Fox vault. In the 1960s and '70s it was the other way around: Down to the Sea in Ships (1922) was gone and long forgotten, but if your local TV station had a decent film library and you were willing to stay up till two or three in the morning, you could count on seeing Down to the Sea in Ships (1949) two or three times a year. 
Before we leave the subject of Clara Bow's breakout vehicle for good, let's get one point clear: Wikipedia says that the 1922 picture "was remade by Twentieth Century Fox in 1949," but — well, that's Wikipedia for you. (Whoever wrote the article didn't even know that it's "20th Century Fox," not "Twentieth.") In fact, there is no connection whatsoever between the two pictures — other than the fact that they both deal with whaling ships out of New Bedford, Mass., and they both take their title from Psalm 107:23 ("They that go down to the sea in ships, that do business in great waters…"). These aren't two versions of the same story, they're two different movies with the same title; henceforth, when I use the title, I'll be talking about only one of them.
Fox chief Darryl Zanuck first set out to produce Down to the Sea in Ships in 1939 — if not this picture precisely, at least one with this title and setting. Things got as far as sending a second unit crew into the waters of the Gulf of California to shoot background footage. But when World War II made it impossible to shoot on the open sea, or even in California's harbors, the picture went on a back burner.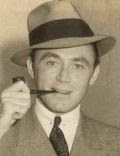 After the war, Zanuck reactivated the project and handed it over to producer Louis D. ("Buddy") Lighton and director Hathaway. Both men were working for Fox now, but they had been paired before in the 1930s at Paramount: Lighton had produced the Shirley Temple vehicle
Now and Forever
,
The Lives of a Bengal Lancer
, and
Peter Ibbetson
, all of which Hathaway directed. The first draft of the script was by Sy Bartlett — that's him at right — born Sacha Baraniev in Russia (now Ukraine) in 1900 but raised in America from the age of four. Originally a newspaper reporter, he became a screenwriter for various studios in the '30s, but he was noted more for hobnobbing in Hollywood society, hosting Sunday barbecues, and the occasional gossip-column appearance. He served with the U.S. Army Air Corps during World War II, then returned to Hollywood and a job at Fox. At the time that he took his first cut at
Down to the Sea in Ships
, Bartlett's most memorable work was still ahead of him: he later turned his wartime experience into the novel and screenplay 
Twelve O'Clock High
(1949) for director Henry King and star Gergory Peck.
Music historian Jon Burlingame (in his notes for the movie's soundtrack CD) says Bartlett's script underwent a rewrite by John Lee Mahin — shown here (on the left) in a rare acting stint in Hell Below (1933) with Robert Montgomery. Like Bartlett a reporter-turned-screenwriter, Mahin already had a number of major credits on his resume, many of them — including Red Dust, Treasure Island (1934), Test Pilot, Captains Courageous and Dr. Jekyll and Mr. Hyde (1941) — for Hathaway's mentor Victor Fleming.
Without access to what records might be in the 20th Century Fox archives, it's impossible for me to say exactly how credit for Down to the Sea's script should shake out — which is a pity, because the script is a truly masterful piece of work; if the picture ever gets the kind of attention it has deserved for over 60 years, maybe someone will shed some light on the subject. The writing credit on screen reads "Screen Play by John Lee Mahin and Sy Bartlett; From a Story by Sy Bartlett," which matches the general drift of the two writers' careers: story was Bartlett's long suit, dialogue Mahin's. Making an educated guess, I'd say Bartlett was responsible for Down to the Sea's distinctive blend of rousing adventure and psychological acuity, Mahin for the unerring cadence and vocabulary of the speech of 19th century New England whalermen. Or it may have been more complicated than that; Mahin gets top billing on screen, which suggests that his rewrite probably amounted to more than just touching up the dialogue.
Is this callousness or tough love? Po-tay-to, po-tah-to. Hathaway had a reputation for being tough on actors. His side of it was simply that he refused to mollycoddle them; he expected actors to report to the set ready to work. He also remembered the day they finished shooting Barrymore's scenes:
"We finish the picture, he walked off the set. No wheelchair. No crutches. And he came to me and said, "Mr. Hathaway, I want to tell you, you did more for me and for my life on this picture than ever happened to me before. From my father or my mother, or from anybody. I was just simply sitting there and waiting to die."